One of the benefits of joining the Google Developers Experts (GDE) program was the opportunity to meet and speak to Google Analytics GDEs. As well as an insight into how Google Analytics and related products can be used, it has also been an opportunity to collaborate with experts including Nico Miceli and Simo Ahava to explore how Google Apps Script and Google's digital marketing products could be used together. I count myself as very fortunate to have been able to collaborate with these experts, particularly the benefits of sitting down and discussing the opportunities afforded by Google Apps Script.
For those in Digital Marketing and Analytics without a Nico or Simo on hand where do you turn? Michele Pisani, for one, has been and continues to be a prolific contributor to the Digital Analytics and Google Apps Script community. Unless you are fluent in Italian you may not have come across Pisani's work before on  AppsScript.it, his associated YouTube channel and curation of "Fatti di Apps Script",  an Italian Facebook group for Apps Script users.
Pisani has recently published a new book "Digital Analytics Automation with Google Apps Script" (or if you prefer in Italian "Google Apps Script nella Digital Analytics: Risparmia Tempo Risparmia Denaro"), which is an introduction to Google Apps Script for Digital Marketers. As the title suggests the book is about ways products in the Google Marketing Platform, including Google Analytics and Google Tag Manager, as well as BigQuery can be automated with Google Apps Script to save time and money.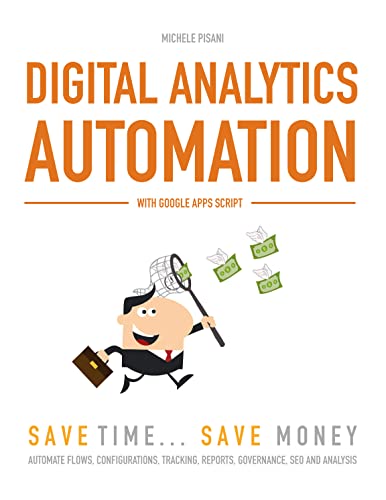 The book is aimed at all those who work or enjoy in the field of data analysis, SEO, ADV, Social Media and in general who are looking for a productive advantage to support their activities, with significant savings in time and at zero cost.

I refer to configurations, management and governance in one click for Google Analytics and Google Tag Manager, support for Ecommerce, access control and data according to the GDPR law, connectors with third-party services, add-ons, Web Apps, tracking, automated reporting and simplified data visualization.

All with a few lines of JavaScript, using only Google Apps Script, without the need for a domain, hosting and knowledge to manage them. The tool offers a simple environment accessible from the Web to overcome the technical and psychological gap due to the need to use complicated external paid tools.
As you can imagine the book includes information on tasks like report automation, however, even with this Pisani often goes beyond 'basic' solutions to explore creative and clever ways Apps Script can be used to enhance Digital Marketing activities. Examples of this include consolidating all payments and refunds in Google Analytics, monitoring version changes to Google Tag Manager, and opportunities with adding some Machine Learning to Google Sheets. 
Throughout Pisani's book there are also clear explanations of not just how you can automate processes, but the clear benefits of why you should be doing it in the first place. This included best practices to ensure data integrity as well as legal and service requirements around data protection.
In the field of Digital Analytics I would classify myself as an amateur enthusiast rather than a seasoned professional, but from what I've seen in Pisani's book I can imagine it will be a very useful addition for anyone with a little coding experience and desire to learn more about digital marketing automation.
[Michele kindly provided a free copy of "Digital Analytics Automation with Google Apps Script" for review.]